The Need for Perspective While Making a Career Choice
The kind of outlook you have towards your future significantly decides most of how it's gonna turn out!
All of us struggle when it comes to making a calculated career choice. This happens because we can't decide whether the one we've looked into is the right one or not. Also, we are oblivious to all the various choices we could tap!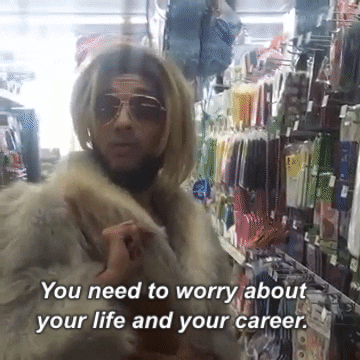 Most students lack perspective and are thus strangers to what they really want in life. In this case, they tend to accept whatever best is offered to them.
If you have ever stood absolutely lost in the middle of a supermarket, trying to figure out what coffee or shampoo you should buy then you'll know exactly where we're heading with this!
You have the first step sorted as you know it is a bottle of shampoo that you are looking for, all you have to do is pick one according to your personal requirements.
Well, my point is that whenever life throws multiple options at you and you have to choose then you must analyze your needs and capability and come to a viable conclusion with a little help from this catalyst called 'perspective'.
Here are 9 reasons one needs perspective while choosing careers –
1.COPING UP WITH UNCERTAINTY
Analysing each option and having a point of view makes one list down the key uncertainties!
Simply put, when you make a note of your options and consider choosing one, then having a perspective would not only enable you to tap life's uncertainties but also help you dig deeper into them so that you can find a concrete solution.
The future cannot be known but perspective would assist you to choose the most reliable one!
2.DECISION-MAKING
Having a perspective would not only help you choose the right career but also prepare you for it.
When you know what you want from life and match it with your competence, choosing the perfect profession becomes a piece of cake!
Some of us are better equipped than others to handle the anxiety, fear, and problems that life throws at us. Perspective prepares you for whatever career you plan to choose.
Ultimately, the only thing you can control is your perspective. And if developed wisely, it can ensure the major career decisions you wish to take in life!
3. RANKING OPTIONS
Perspective helps you prioritize the available options and channelize your energy into achieving those, subsequently. It helps you segregate your priorities.
You must think about where you stand right now and where you want to be. You can work on getting to know your skills, interests, and values.
When you know where you're headed and what you want to achieve foremost, the execution of all your plans becomes a much easier task to follow-up with!
4.TAKING UP CHALLENGES
Having a clear mind about your future helps you ready yourself for whatever summons life might have planned or you.
It not only has you prepared for the unforeseen challenges but also gives you the courage to confront and take them up!
The many times we opt out of what we most like to do due to the fear of not being able to do it. We miss out on a good chance to have the kind of life we deserve, the kind which can be ours provided we have the right perspective while choosing our career!
5.REALIZING YOUR POTENTIAL
Having a defined perspective will help you don your best possible self for the forthcoming advancements in life and the increasing expectations.
You might be good enough for a number of careers but perspective will help you find your personal best!
Choosing careers that seem secure or pay well should not be your ultimate goal. The inevitable end would be being unhappy when you realize money can't buy you job satisfaction.
The best way to make sure that doesn't happen to you is to make a well-thought decision, which will pay off when you have the right perspective.
6. FORESIGHT
Round up solid foresight with the help of a clear perspective!
A comprehensive point of view would help you decide your next move, and in the long run, these small steps would lead you to the apex of your career.
Knowing what to do next is an assurance of never standing lost or unprepared. It helps you set and achieve short-term goals.
7. PERPETUAL ASSISTANCE
Career planning is a lifelong process, and in order to achieve your goals, you need to have a particular outlook towards the career choice you aspire to make.
You need to actively search for career opportunities, and you need to ensure that you continue throughout your career to actively and professionally develop yourself.
Once that research is done with, you can rest assured that it will become your guiding principle on the path to that coveted success!
8. FINANCIAL PRUDENCE
Having a holistic viewpoint for the future helps you plan your finances in an organized manner. Perspective would make you understand your financial needs because there will always be some.
Choosing a job that meets your financial goals is of utmost importance. Perspective will help you work out just how much your chosen field of study will burn your pockets, whether you can afford it or not.
It gives you enough time to find opportunities for scholarships and loans.
Gaining Perspective would certainly clear up your doubts.
Conducting interviews and watching videos or podcasts of people who are established in their jobs will help you see a clearer picture.
The advantages/disadvantages of their work, the things they did right and the places they where they went wrong, all of it would put you in a much more prepared position.
You can use self-assessment tests, questionnaires, quizzes and surveys to narrow down your preference for a career.
Perspectico does exactly the same thing!
It is like a career coach which can guide you, counsel you and prepare you to start with your best suited career path.
To have perspective means to have a vision and a particular point of view on things and situations you come across.
Not choosing the right career can turn your life around, and for all the wrong reasons!
Once you get a perspective, you can see through your options, analyze the cohesion of your abilities and ambition, and then chalk out a structured stairway to prosperity!
In case you feel like you lack the motivation, information and of course, perspective to plan the best career path for yourself, fret no more! Perspectico is here to solve all your career-related woes.
With informative talks from industry experts, insightful weblogs and a WIDE range of career-specific dockets, Perspectico brings to you a much-awaited platform to amp up your chances of bagging that 100/100 professional life that everyone dreams of!
QUESTIONS:
Do you think having a perspective is an important aspect of success? Yes/No

How does career-perspective help one? Financial Prudence/Decision-Making
TIPS:
Yes, because without the clarity of thought and mindful calculation of the future, a downfall is inevitable. No, we should take everything that life has to offer in our stride and face the circumstances as and when they occur.

FP: Perspective will help you work out just how much your chosen field of study will burn your pockets, whether you can afford it or not.
DM: When you know what you want from life and match it with your competence, choosing the perfect profession becomes a piece of cake!