5 NON-BAKCHOD LESSONS TO LEARN FROM AIB'S GURSIMRAN KHAMBA!
You must've read helluva articles about career and life lessons. Snoozing through the "Hacks for Success" themed articles which you read time and again, only get all inspired for like 5 full seconds and then failing to understand its application in real life scenarios, AMIRITE?
Well my friend, you just got lucky!
Who isn't aware of All India Bakchod today? Well, it's my job to give a brief so..
AIB a group of insaaane comics producing rib-tickling content all over the internet and if you haven't been living under a rock, you've probably watched (and loved) their sketches and podcasts!
The YouTube channel was started by two lost souls, Gursimran Khamba and Tanmay Bhatt, who were later accompanied by their friends Ashish Shakya and Rohan Joshi. Ever since the inception, co-founder Khamba has played a very pivotal role in the group.
They started with satires on political affairs, digital issues and third-world problems but ended up transforming into a platform which garnered an unimaginable amount of fan base and appreciation for its catchy content and pinch of sarcasm.
Well speaking of Khamba, he is someone whose life is a living and very relatable example of how tiny little things can turn the wildest of your dreams into an extremely rewarding career!
So, here's a list of 5 of those trivial things that make all the difference:
Grow Through What You Go Through
If you think the guy had it all served to him on a shining platter, you're very very mistaken.
Khamba started off as a journalist and was on his way to England for Master's Degree when he fell extremely sick with Tuberculosis and was bedridden for a period of 6 long months!
It was at this stage of his life when he decided to move above life's atrocities and not succumb to it.
Instead of giving up, he started his own blog called 'Khamba's Blog' which gathered a supreme response and tbh, his success is PRETTY evident!
The point is, don't let an obstacle be a termination point.
(He later ended up getting his masters from TISS and being a columnist in FIRSTPOST and DNA.)
Understand that Life May Have a Different Plan for You
Khamba started off as a regular college student, pursuing a Master's degree, and ended up revolutionizing the way India watches comedy!
And this was all possible because he never restricted himself with boundaries.
He never narrowed his career prospects down to a limited perspective, and that's exactly what made him change his fields overnight, even though it wasn't his primary PoA.
While in bed for 6 months due to his illness when he started his blog, he was discovered by Rajneesh Kapoor who offered him to perform as a stand-up comedian and he decided to go with the flow.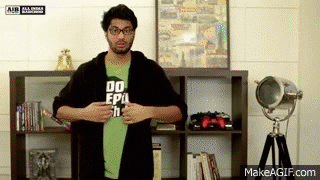 If you really observe Khamba's work, you'll find him serviiing back-to-back straight-faced punches!
Well, this might sound a bit frivolous, but be it a comedian throwing his punchline or a lawyer closing his case, giving a poker face at the right time is sometimes all you need to smash it!
What we actually mean is that one should know how to and how not to react when at the workplace. Some situations require your immediate attention while other might fix themselves, keeping your calm and knowing how to react is your key.
Wherever you're working, whatever you're working on; make sure you give it your all and keep your focus intact!
Utmost dedication and incessant devotion are the two key ingredients to the recipe of success, regardless of the profession.
So stay focused, go after your dreams and keep moving towards your goals!
Khamba, out of the four core members of the AIB troupe, is the most low-key person.
He has always been that way, which is one of the reasons why people value him so much. His simplicity and easy way of living is what distinguishes him from the rest of the lot.
Sure you should to understand your value and never settle for less. But at the same time, never let success or recognition get to your head. More often than not, the consequences won't be very pleasing.
Stay down-to-earth. It'll take you a long way!
Well that's it from our side!
We're sure a man as excellent as Gursimran Khamba has a pandora box of many other crazy tactics to win at life!
So what are you waitin' for?
Go check out some AIB Podcasts to fill yourself with some more Khamba inspo and get going on the path to success!